Google Cloud Summit Arrives in Sydney
Google kicked off its anticipated 2 day Google Cloud summit at Carriageworks, Sydney last Wednesday to a 2500 plus crowd.
Snapfrozen was present for both days and we were excited to hear the latest cloud news and get great tips on how our partnership with Google can better support our customers.
For Google, it's their second major summit since launching their Sydney Global Data Centre last year.
And Google isn't holding back.
It turns out they've spent over 30 billion in cloud infrastructure and moved from 3 to 18 regions in the last 2 years alone.
And for Sydney, it's not stopping there.
Keynote speaker and country director of Google Cloud in Australia and New Zealand, Colin Timm, revealed an exciting roadmap for Google Cloud Plaftorm (GCP) for the years ahead including BigQuery coming to Sydney's own backyard in Q4 of 2018. Soon after will come INDIGO, their previously announced new 9000 km submarine cable which will connect Singapore through to Sydney. So it looks like Google's plans for cloud power in the Asia Pacific region will put Sydney's cloud infrastructure on par with Tokyo's.
Technical directors from Google Cloud HQ in California Paul Strong and Jennifer Bennett continued the first day keynotes with a history on Google Cloud infrastructure and its continued commitment to open source innovation.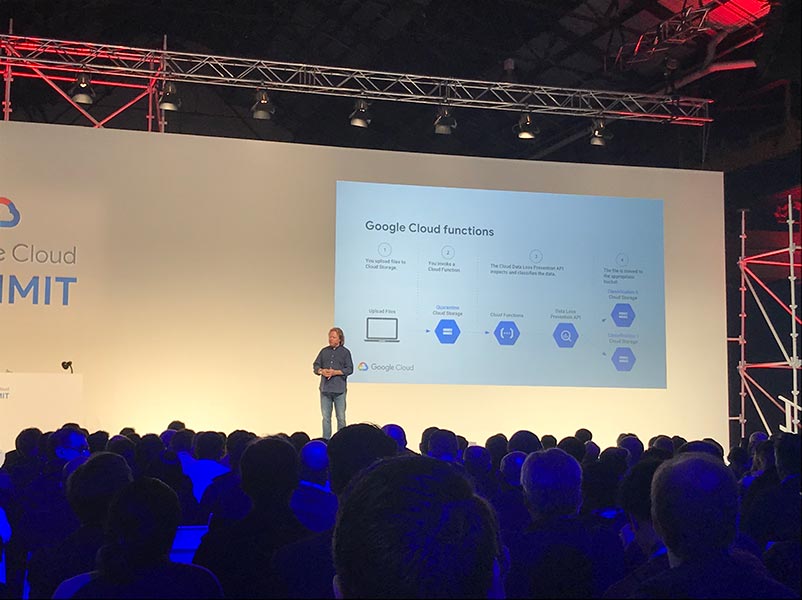 In typical Google style, there were engaging but relaxed Google staff at every turn to answer questions, facilitate quick labs, and man a swathe of booths devoted to Chrome to machine learning and beyond.
Security, reliability and seamless migration to Google Cloud Platform were especially big themes, with Google's customer partners from PWC and ANZ bank giving a detailed insight into how they efficiently made the switch to GCP despite bucket loads of regulation and zoning at play.
Google also welcomed the Sydney audience to Cloud Armour, Google's answer to denial of service and web attacks. In fact, they pointed out Cloud Armour's bandwidth is 10x bigger than even the largest attack Google's ever seen. We touched on Cloud Armour in our last post and we can't wait to see how this develops, as security is a number one priority for the next generation of web.
Google also put its raw compute and analytics power on display at the summit, as well as next generation artificial intelligence and machine learning tools. On show was their recently announced EdgeTPU AI chip architecture, which looks destined to change the Internet of Things (IOT) landscape. We saw a proof of concept smart home device directly connected to the Google Cloud, and in another more whimsical demo, Google AI's successfully identified Arnold's Tim Tams and Vegemite, much to the crowd's pleasure.
Gsuite and Chrome Enterprise booths and demonstrations showed Google's determination in transforming the way teams work. A key goal is to show how useful insights can be created from data. Google demonstrated how easy it was for users to tap into their under-the-hood machine learning power for use in Gsuite apps, in one example saving hours of tedious manual spreadsheet analysis.
The summit ended as it began – super chilled, but packed with energy – with drinks for partners and celebratory nitrogen-cooled profiteroles.
Yes, we did get brain freeze.
It was an impressive summit overall and right in time for Google's 20th birthday this year.
We're thrilled that the future of Google Cloud technology in Oz is looking especially bright.
If you're excited too, why not share this post with a friend or colleague.